Conception
1. Life
Universe
Reality
Space and Time
Miracle
At the beginning of everything... Space and Time.
The miracle behind the birth of life-- the Big Bang upholds how our creation came into being.
2. Mankind
Language
Imagination
Infinite Sphere
Possibility
Love
Confidence
Intuition
World
What makes humans unique is our language.
Through language, our imagination has become infinite/limitless.
And, in the name of love and belief, our intuition leads us to embody the quintessence of our world and life.
3. Creation
Art
Self
Action
Diversity
Thought and Physical Being
Architecture
Freedom
Art is the most primordial human activity.
Thought (fiction) and the physical being (reality) intertwined, work to manifest the diversity existing within, taking a new form.
Architecture transcends all such expression of art.
From ancient times, mankind has sought this eternal freedom.
Activities
Since its establishment in 2006, i-ado has worked on numerous projects, mainly in the field of architecture in Japan and abroad. From planning, designing and until the actual construction, works include cultural properties such as tea rooms, traditional Japanese folk houses, temples and shrines; spaces for fashion and dining; cultural institutions for education, art, film, and drama; accommodations such as hotels and villas; living space such as residences and summer houses.
What is unique about i-ado is that a project team is created. The best team possible is organized from a network built over years across different fields and regions, from Japan and overseas. By completing the whole process without outsourcing, those team members involved in the planning, designing and constructing all share an understanding of the whole concept, leading to comprehensive and innovative ideas which facilitate a speedy and effective execution.
Apart from the field of architecture, activities comprise of direction, design and production of theatrical spaces and installations―performance art such as musical, dance and theater; collaborative work of Japanese traditional performing art such as tea ceremony, Noh, and Bunraku (Japanese puppet theater) with modern art; product design and creation by handwork. The scope of work expands to the restoration of temples and shrines; planning of regional revitalization; corporate branding; collaborative project of scientists and artists; cultivation of international cultural exchanges.
Company Outline
Representative

Masataka Sakano

Creative Content

Architecture planning, design, construction management

Example

Restaurant, Boutique, Villa, Hotel, Studio, Gallery, Residence etc.

Area

Japan, USA, France, UK, Italy, Brazil , Taiwan, Thailand, India, Spain etc.

Founding

2006.7

Office / Labo

Palace-Aoyama 4F, 6-1-6 Minami-Aoyama, Minato-ku, Tokyo, 107-0062, Japan

Factory

186 Shinyosida-cho, Kouhoku-ku, Yokohama-shi, Kanagawa, 223-0056, Japan

Office U.S.A

3812 Sepulvda Blvd, Ste 505 Torrance CA 90505

Contact Info

Tel +81-3-6753-9689 Fax +81-3-6317-7836
Profile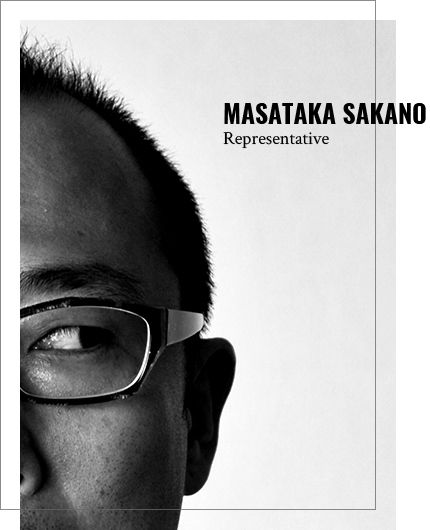 Education
1992-1996

Berklee College of Music, Boston, USA
Graduated in Music Performance studies.
Winner of Chick Corea Award

1986-1991

Eiko-Gakuen Junior/Senior High School, Kanagawa, Japan
Left the school mid-course, with the objective of enrolling at Berklee
Interview
Please check the interview article of Masataka Sakano who is representative of our company.
DECEMBER 2005 – PRESENT
Self-educated registered architect. (Acquired professional knowledge and skills through no college education, but through self-teaching and apprenticeship under various building contractors and Miya-daiku.)
Established, in 2006, i-ado, an Architectural Design firm and an Interactive-Arts Development Organization
Planned and designed numerous innovative architectures.
Representative works include:
Completed Works
"Villa Hayama", a musician's summer villa in Hayama, "T-House", an art gallery, in Daikan-yama, Tokyo. "AURORA GRAN", a Jewelry shop, in Omote-sando, Tokyo. "CATCH", an advertising firm, in Gaien-mae, Tokyo.
In-Progress Works
A 300-years old sake-brewery, at foothills of Mt. Fuji, Yamanashi. A cultural complex (traditional textile art crafting) in Tooka-machi, Niigata.
Independent Master of Miya-Daiku
(a woodworker specializing in shrines, temples)
JANUARY 2002 – PRESENT
Built and/or restored traditional Japanese architectures, including tea-arbors, shrines, temples, and national/local cultural properties.
Representative works include:
Completed Works
A Noh stage at World Heritage Toji-temple in Kyoto. Group of monumental buildings (chapel/convent/auditorium /school- house) at Sacred Heart School, in Shirogane, Tokyo. "Kanai Beikoku-ten", a 120-years old rice-shop in Kichijoji, Tokyo. A 150-years old historical architecture, in Koiwa, Tokyo.
In-Progress Works
A Japanese tea-arbor in Tangier, Morocco.
Representative Works
01

Japanese Sake Brewery in the foothills of Mt. Fuji

With reverence to the spiritual culture of Mt. Fuji, a world heritage
Conservation of a 300-year-old sake-brewery; a redefining of its history
Symbolic architecture for comprehensive regional planning; conservation of cultural heritage and coexistence with nature
Sake brewing as the hub, a revitalization of a borderless local community involving the people and local government encompassing art, belief/ culture of spiritualism, industry and tourism
Collaboration of modern architecture and the ethos and principles of traditional Japanese carpentry, "Miya-daiku"
General direction bringing together professional creators from various fields beyond architecture

02

Private School Project in Tokyo

Architectural planning embodying the school's unique philosophy and educational ideology
On a vast piece of land of abundant of nature, stands this prestigious private school
Restoration of a variety of artisanal craftsmanship in danger of being lost

03

Restoration Project of Traditional Wooden Architecture in Tokyo

Restoration of a 200 year-old cultural property—a very precious building structure
Revival of traditional elements and techniques; collaboration with modern technology
Team of engineers brought together by our unparalleled network of professionals

04

Art Village Project in Hokkaido

Unique art space portraying the human body inside out
Symbolic architecture for Hokkaido's touristic district planning; a venue where world top artists would gather
New concept of "residence for artist"
Historical townscape maintained and restored; coexistence with natural landscape
Sound environment system made by state-of-the-art engineering
High-quality craftsmanship made possible only by the historical and local social systems
Access Tokyo Office